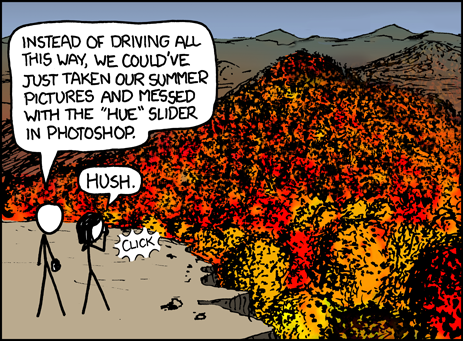 I really feel that this is an
appropriate comic to post in my blog for now. Here in the Czech Republic, we've actually been experiencing fall or autumn...as opposed to Maryland where the weather goe
s from summer to winter in a total of about two weeks. This is of course excluding the last few days where it has been rather rainy. But, this is the same sort of feeling I get when I'm looking out the windows of my classroom at FAMU..."oh the leaves are gorgeous. The hillside is beautiful....wait, I
should be paying attention...but, it's sooooo pretty..." You get the idea.

But enough talk of how m
uch I love the fall here. The e
nd of last week turned out to be another interesting week. Wednesday and Thursday were rather normal by all accounts. I did manage to get lost in Old Town on Thursday though. I went looking for the books I needed for my history class and I first tried the Globe Bookstore that my professor suggested, but they did not have the books, so I thought I would try the other English bookstore, Anagram.

I've heard it said that you can only
get lost in Prague if you are actually looking for something and it's very true. Trying to find Anag
ram books took abo
ut 4 hours...and I never actually found th
e store. I
wandered the same block, unintentionally, for at least an hour. I also managed to end up in the Jewish Quarter. Eventually, I did find my way back to Old Town Square, but I had given up on finding the bookstore at this point. There was a what looked to be a school band playing in the square outside of St. Nicholas' Church, which is what the picture to the left is of. They were pretty good and were playing the "Can-Can" song, so I enjoyed that.

Not long after this fiasco, I met Kris and we went for "horka čokolá
da" aka hot chocolate at the Cubist cafe. It was really good. When we ordered, the waiter was extremely impressed as we proceeded to order in
Czech. He was so amused that he went from having very little smile to be all smiles every time he came over to the table. It was a really relaxing time before I had to go class and Kris had to return to writing her paper. Well, as I was leaving I grabbed my jacket off my chair and the waiter insisted on holding it for me as I put it on. I take this as a sign that not many people come in with the intent to speak Czech there.

Class went well, as did Friday'
s clas
s. Friday night I spent part of my night hanging out with Shayna and Steph. They were a lot of fun. I then met Lisa and Rebecca at Friends for American Pop Dance Party night. I really enjoyed dancing and just hanging out with them.

Saturday during the day Kris, Lisa an
d I went shopping around...or more like pricing around for souvenirs. I actually wandered into the Tesco's other floors, which were actually really neat. It reminded me very much of an American department store. We stopped in Old Town Square for roasted almonds and actually found Anagram books this time around. I wasn't looking for it this time obviously. (Especially since I had already taken the books out of the CET library...). We then wandered for Chinese food, which was only ok. I think the place could have been better, but you know...it was an experience. I really do need to find a sushi place though. If there is one food I really miss from home its the sushi.

When I got home later in the evening, I found that Steph, Shayna and Tarek were watching

I Love You, Man

. I watched the last bit of it and then we all proceeded to make chicken schnitzel. It was absol
utely delic
ious! That's what the following pictures are from.

Later that evening, Kris, Lisa, Marek, one of Marek's friends and I attempted to go to a jazz club that we received an e-mail about, but we arrived half-way through the set and decided that t
he cover of 200 crowns was too much for only seeing half of the show. We wandered looking for another bar for a bit and eventually ended back at the same bar where I got a really good drink called a "Swimming Pool"...it was really good. Kris got a "Zombie", which is the picture to the left...it was cool to look at so I had to post a picture of it. After we finished drinks, we headed back home.

Sunday was a day of cleaning. I cleaned the entire apartment and it made me extremely happy once it was all done. I then wandered over to the boy's apartment for eggs and then out to coffee with Steph and Shayna. Sunday was rather relaxing and culminated in me making eggplant parmesan which was absolutely delicious.

And now it is Tuesday. Monday was a typical Monday complete with classes and rain. And today we saw snow...but beyond that...typical Tuesday with classes. I'll update later in the week as we have to pitch our ideas to production managers on Thursday. That will be fun. But, look for more excitement in the coming entries. The semester is becoming a film making semester. Cheers!